Conveniently located in the heart of Williamsburg in Brooklyn, Salerno Service Station has been your friendly, neighborhood source for consistent, affordable and reliable auto service since 1959. Family-owned for three generations, Salerno's is the most trusted auto repair in Brooklyn.
Auto Repair & Auto Body Shop Brooklyn
Welcome to Salerno's, a three-generation family-owned service station, auto repair, and auto body shop in Williamsburg. We've been a neighborhood fixture here since 1959, and have been honored to serve the fine people of Brooklyn, many as life-long customers. Come visit us and experience why locals have chosen to keep coming back, year after year.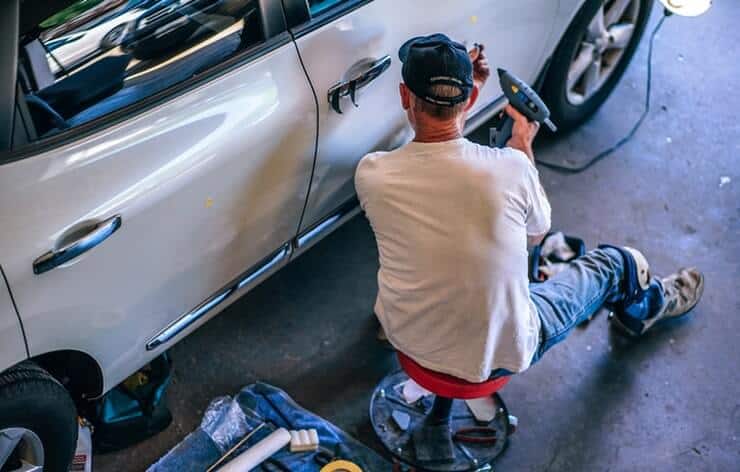 Auto Body Shop
-DETERMINE THE EXTENT OF DAMAGE
-IF DAMAGE IS NOT SEVERE, OUR TEAM OF MECHANICS WILL GET YOU UP AND RUNNING IN HOURS
-IF DAMAGE IS MODERATE TO SERIOUS, WE WILL GET YOUR CAR REPAIRED IN DAYS
-IF CAR IS SEVERELY DAMAGED WE WILL ARRANGE FOR YOU TO GET THE BEST PRICE POSSIBLE FOR YOUR JUNK CAR, DELIVER YOUR VEHICLE TO JUNKYARD AND HAND YOU A CHECK!
Send in a photo of the damage to your vehicle  to: (800) 558-8093 (scratch, dent, auto collision, or car accident) and we'll immediately send you a rough estimate to get your vehicle back in top form and back on the roads as quickly as possible.
"Easily the best mechanics I've had in my lifetime. Always honest and forthright. Excellently priced."
"They really care about giving you the best service for the cheapest repair price that'll get the job done. These guys are the best."
"Wow. What can I say? These guys are awesome."
"Hands down the BEST place to take your car if you need a fix. These are the most honest guys and capable guys you'll come across in this industry."
"I've come to trust Salerno's with anything. If they can't help you, they send you to someone who can. "